Do you remember my last post wherein I discussed the 5 best strategies that worked for Instagram in 2019? If you don't, no need to panic since the platform has drastically changed and what worked two years back might not work anymore. Hence, in this fresh blog post, I plan to cover the top 3 Instagram marketing trends that you must focus on and the future of Instagram in 2021. You will also learn different ways of how can brands make the best use of this amazing platform and scale up to newer heights
The onset of COVID-19 in 2020 affected the common layman and large enterprises alike affecting their revenues and clientele both. The brands still hope for a positive start to 2021 and want to stay one step ahead of their competitors.
However, the question that often confuses newer brands is: how can Instagram help my business? If you're too struggling to find the answer to this, keep reading and learn about – various Instagram trends of 2021 and how can they boost your business?
Instagram Reels: Create Bite-sized Video Content On-the-Go
One of the foremost Instagram marketing trends that you must focus on is: creating bite-sized video content to give your brand a strong online presence and engage better with your target audience.
You must recall that this trend of creating bite-sized videos started with Instagram Stories in 2016 which took the digital world by storm. Now, in 2-years time, there are more than 500-million daily users active on Instagram stories. Worth appreciating, isn't it?
A few months back in August 2020, Instagram again rolled out the "Reels" feature to rival its counterpart – TikTok. This new feature "Reels" allows users/brands to record, create 15-seconds multi-clip videos & share them with their target audience.
Instagram is hopeful that seeing positive engagement & traffic, various brands will step forward and give "REELS" a try. So, if you're also one of them & would like to create a "REEL" for your brand, here's how you can do it: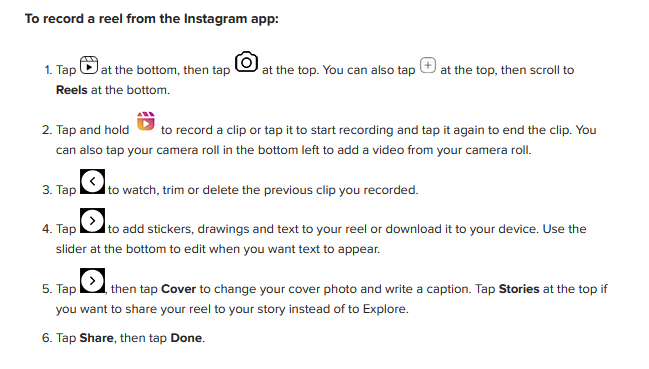 Also, check out this quick step-by-step video developed simply to assist you with the process and help you learn the basics:
Instagram Reels: What to Expect in 2021?
Users will be able to create 60-second videos

Instagram TV [IGTV] will step down further encouraging brands to rely on Reels for branding

Influencers will prioritize Reels for collaboration
Influencer Marketing: Transforming Virtual Landscape Creatively
Remember the time when social media had just come up and brands were still getting used to the idea of connecting with their target audience online? The times have changed now and today even small brands can easily collaborate with micro-influencers and build up their online presence.
As per Business Insider statistics, the influencer marketing industry will become a $15-billion industry by 2022. So, influencers aren't going anywhere and the early brands use their expertise, the better it gets for them.
Since Instagram is constantly adding new e-commerce features, it's becoming easier for influencers to expand their network and establish a long-term collaboration with brands. The onset of COVID-19 minimized ad-spend on traditional campaigns further encouraging brands to spend on online marketing. And that's where influencers come into play.
Influencer Marketing: How Will it Change in 2021?
Brands will collaborate more with nano and micro-influencers

Influencers will likely tag more business products in their posts – a form of affiliate marketing

Influencers will form long-term collaborations with digital creators and brands alike
Instagram: Will Likely Emerge as the New Micro-blogging Platform
If you're a digital creator, you wouldn't deny the inclusion of long-form content in Instagram captions. Many celebrities and influencers like JustAskJenny are living examples of this emerging trend. Even Fohr's 2019 report supports this fact and clearly states that the length of Instagram captions has doubled since 2016.
If you're still wondering why these influencers have started implementing the art of storytelling in their captions, it's because of these two primary benefits:
Storytelling improves the reading time and the average engagement of these posts

The audience gets the motivation and encouragement to leave a comment and share their own stories
Another factor why I believe that Instagram will emerge as a good micro-blogging platform is because the platform launched Guides in May 2020 to support individuals and encourage them to look after their well-being.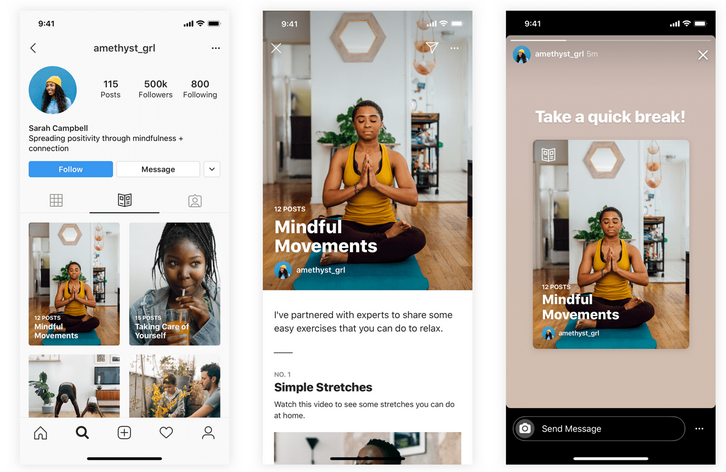 By incorporating more user-friendly features in 2021, Instagram can convert these "Guides" into your go-to segment for anything and everything. Brands and digital content creators can leverage it to educate society and share recommendations. The influencers on the contrary can use it to build up their revenue stream by incorporating sponsorship guides.
Bottom Line
2021 is almost here in a few days and with the virtual landscape & social media platforms changing so rapidly, it's hard to plan everything. However, through this blog post, I have tried predicting the top 3 Instagram marketing trends for 2021.
Do you have something else to add to this blog post? Have you planned your Instagram marketing strategy for 2021? Feel free to share your views in the comments section below and let's try making the best of 2021.