Quite recently, I shared some tips on how to become a good writer. That post did receive some good share of response across all my social media posts. A writer apart from knowing the tactics of writing must be good at Proofreading. Before taking a leap into what is the basic process of Proofreading, let's first understand the basic meaning of the term.
---
Proofreading as a whole involves checking grammatical errors, punctuation errors or typos. It can take on some extensive editing too depending upon the situation and the need of the hour. To make Proofreading process easier, proofreader's make use of some notations like – colorful ink, brackets, default symbols etc.
---
Usually, people are confused between the terms 'Editing' and 'Proofreading'. They often ask What is the difference between Editing and Proofreading? Understanding the same confusion, let's just take a quick glance on the image below listing down the basic difference between the two terms: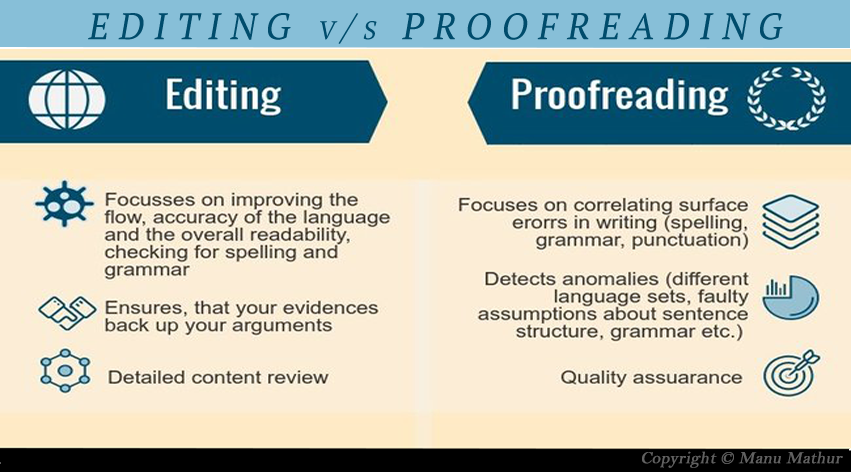 Even Rushang Shah states:
---
Writing and Editing is Art. Proofreading is Science.
---
Right Way to Start Proofreading
Now, this question has and still does confuse a lot of budding writers. If you too find yourself confused on what is the right way to proofread, hold your chin up and take a quick look at some easy-to-understand tips:
Print and Read
This looks a costly affair, but comes handy when you have a lengthy post/article to scan through. If you too come across anything of this sort, print out the document and make the proofreading process easier. Marking the errors out using a pen/pencil would also help you decide quickly if your document is ready to publish or you need to devote more time to it.
Tip: Read your document line-by-line 2-3 times at least and mark the errors using a bright colored pen/marker (Blue / Black) to reduce the error probability to the minimal.
Read Out Loud
If printing the document and editing is not your forte do nothing, but just read out loud the document. Your vocal cords might suffer if the document is too lengthy, but it will be worth it. You will be able to catch the mistakes faster even if it includes just a faulty verb ending to any word that got missing.
Tip:  The manner of reading should vary depending upon the content type that has to be dealt with. Let's suppose if the text in context has a dialogue then it's vital to attach different personalities to the characters to make it sound more effective.
Using Spell Checkers
Whoever designed online spell-checker must be getting blessings from all the writers across the globe. Spell checkers are a savior, a must-know tool for proofreader's as it allows them to easily catch and edit repetition of words, phrases etc.
You are able to rectify petty errors which your eyes might fail to perceive. However, as every coin has a flip-side , ensure you don't rely on these tools for everything.  Your commonsense is the best tool you can trust  on while reviewing a piece. These tools are just an alternative to make our task a little easier and they often fail to  understand the context like a normal human being.
Example: They block words like "infinitesimal" or "compartmentalization" whenever a typo occurs, but contrary they also often allow such mistake like this to go through.
Tip: You can also take a look at the top 5 online tools that you as a proofreader can make use of to generate an error-free copy.
Before Proofreading, Improvise
Another factor that impacts the overall proofreading process is the formatting of the piece. Take a quick peek at these basic rules to improve the look and feel of your content piece irrespective if its a blog/article/newsletter or anything else:
Short Paragraphs: Break down the content into multiple paragraphs wherein each paragraph is of just 3-4 lines. It enhances readability and lets you proofread the piece quick and easy
Font Size or Typeface: This looks a small change, but makes a big difference. Depending on your convenience, choose a particular font size and a typeface. Besides, if you feel confused with the typeface, you can simply prefer Zoom feature and use it
The split of Columns: Another simple strategy which you can follow is splitting the text into two columns. All those who use Microsoft Word must be knowing how to do that. However, for those who don't, here's the step-by-step instructions:

Open MS Word on your system
Ensure you can see a ruler across the document boundary. If not, press ALT + W keys together followed by R ; OR you can also follow the long route as (View >> check mark the Ruler checkbox
Once you see a ruler, again click on Page Layout tab from the main menu bar
Under the sub-menu, choose Two as your option
Ruler divides into 2 sections indicating that Word document now supports a two-column layout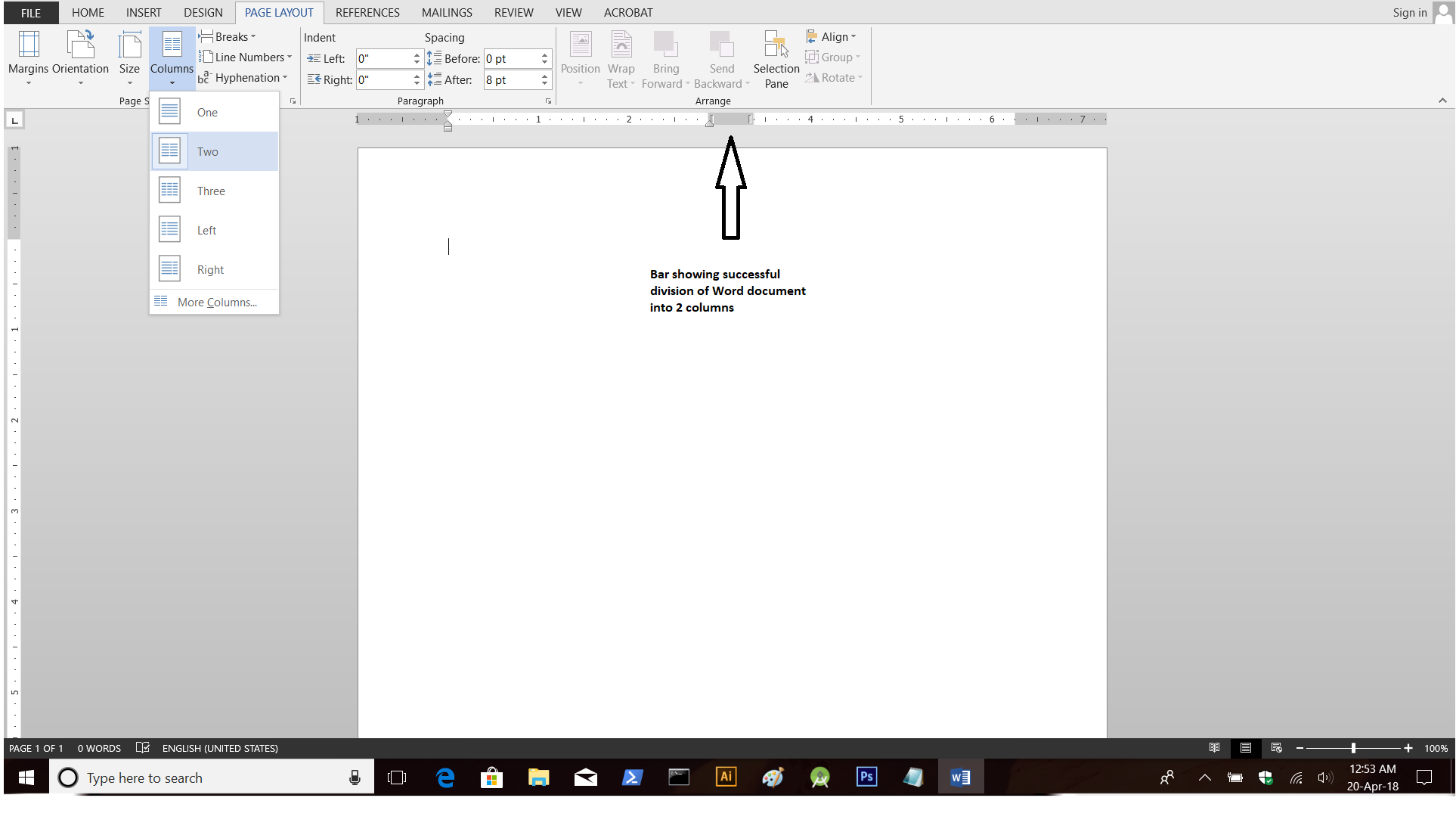 Self Made Checklist
This is a DIY (Do-It-Yourself) task. No online tool can help you here. All you have to do is: prepare a checklist writing down your repetitive mistakes. Once you have a list of mistakes, you can chalk them out in all your document pieces. Consistent approach towards checklist concept will help you quickly rectify your mistakes without relying on any tool or person.
Verdict
The process of proofreading ain't easy as it enfolds a range of minor yet important tasks. You need to put in a lot of effort, consistent practice and hard work to become a good proofreader. Follow the above said practices on a daily basis and I am sure you will be able to grasp the art of proofreading much faster.
Now if someone asks you: what is the basic process of Proofreading, refer them to this guide and I am sure they will thank you later.
Tip: If you want to be a proofread like a pro, checkout this amazing list of 6 ways to better proofread an article
If you are aware of any other proofreading technique which I haven't mentioned, feel free to share it with us in the comments section below.
Your feedback and comments are as always welcome.