"And what, you ask, does Content Writing teach us? First and foremost, it reminds us that we are alive and that it is a gift and a privilege, not a right."
How many times have you sat down with a pen and a blank sheet to complete something? A multiple times, isn't it? But have you ever given a thought as to why that piece never worked out well? Let me explain it in simpler words. Content Writing as a profession is tricky because the whole purpose of writing a piece is to grab user's attention and keep him/her engaged till the end. But how to do that you might ask? It's much simpler than you think.
If you are a writer, you would automatically begin your writer's journey. Just follow in the 4 C's of Content Writing as specified in the blog post and with proper implementation, you surely would achieve optimum results. You must be wondering what are those 4C's that I am talking about right from the start. Let's dig a little deeper into it and understand each of these properly:
Clear/Clarity
This forms the base of every writing piece. No matter what it is, we must keep the language simple. Our job as writers is to 'simplify the complexity' not increase it. You can easily achieve 'Clarity' in every writing piece by taking note of the following pointers:
The piece must be written in Active voice

There should be no long sentences. The larger the sentence, the more is its complexity

The flow should be maintained throughout the piece
All in all, the content should be easily understood by the target audience. If it has a flow and it caters to the needs of target audience, you are bound to get positive results. But one question which many people fail to get answer for is: how to maintain the flow of writing piece? Follow the basic rule and rest all is good:
Begin with a short introduction that defines the purpose of writing that piece

Grab the users' attention by telling how would the piece prove useful to them

Lastly, give an overview of all the key pointers you covered in your writing piece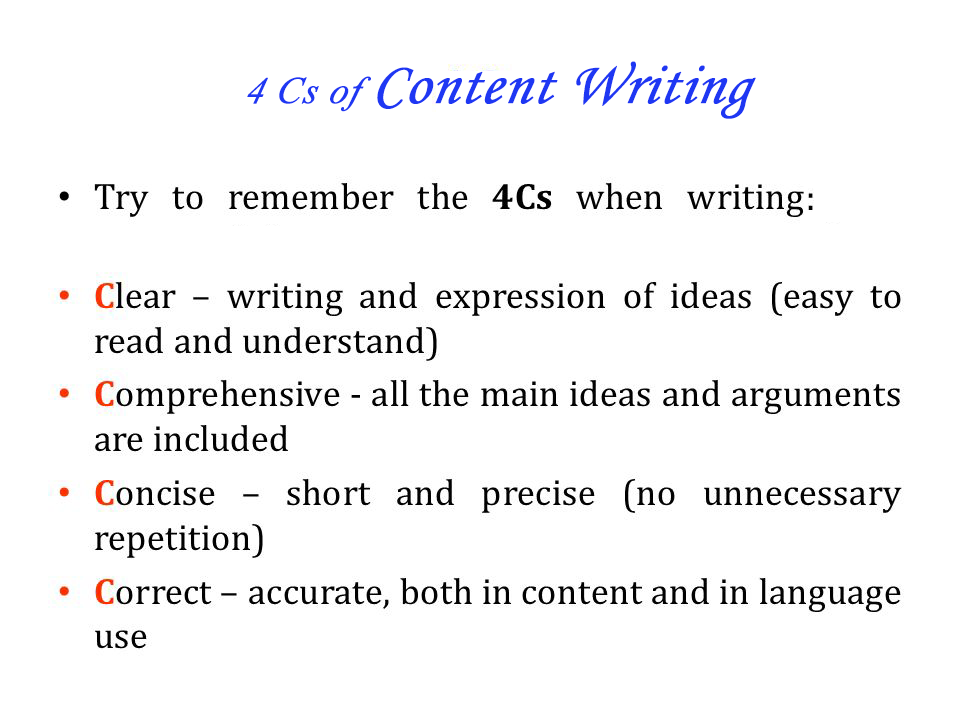 Concise
The more Concise you are, the better is your piece. In place of filling the content with meaningless words, ensure that you write to-the-point. As is said 'the more ruthless you are with the DELETE key, the shiner is your content'. Follow this 4-step strategy and keep your write-up short and simple:
Cut down extra words and redundant expressions that make no sense to your piece

Maintain a uniformity across each piece of your online content

Uniformity makes it easier for the readers to understand things in a better way

Avoid using technical jargons, if need be, do explain its meaning at the first usage itself

Every statement must have maximum of 20 words. While each paragraph should never be more than 4-5 lines
Completion
It is often told: If you start a task, ensure that you complete it too. The same rule applies in  the field of Content Writing. If you have begun a piece, make sure you complete it within the stipulated time. Also, it is important that it encompasses all the requisite details a user/reader might require. For instance: if you are writing a step-guide, make sure you adhere to the following pointers:
Write each step carefully and properly. The information should be complete on all aspects

You can take help of creative examples, or different roles to explain a particular point
In a nutshell, the more elaborate you get, the better experience your readers would get. More than experience, it would be the connection, users will have with your blog/website that matters.
Correctness
Its one of the most important C's in the field of Content Writing. No matter which profession you belong, following and having right knowledge of rules of grammar is a must. One must follow the rules of grammar, punctuation properly and must also avoid typo's. Mistake in any of the areas can easily confuse your reader and subsequently can also impact your authenticity.
There are endless web-links and online guides to teach you the right rules of vocabulary. But if need be, you can also keep a small dictionary or a thesaurus to assist you without relying completely on your gadget. You must use your commonsense, and should never rely solely on the online spellcheckers to proofread the content. Now before you ask, how to improve the proofreading skills, just follow the web-link and then you can thank me later for this guide.
Conclusion
Writing is a constant process and playing with words is an Art. So, if you wish to be a great writer, be consistent in your practice. Regular writing will not only improve your vocabulary, but will also make your statement formation skills better. Check out this important guide on enhacing your writing skills and start your practice now. Also, before I conclude this blog post, here's the final tip from my side:
The more you write, the better you become. Have the power within you to JUST BEGIN .
So, write more and inspire more people in your vicinity to make this world full of amazing writers.
P.S. Want to share your writing experience or some basic tips with us, feel free to comment below…