Not everyone can convert their blog into a successful revenue option, right? This holds especially in the absence of proper guidance. When I stepped into the world of content and writing blogs back in 2012, there weren't many folks around who could guide me on how to set up a successful blog. I had to read through several online guides and run different tests to check what worked for me and what did not.
The fact is that – Blogging is no longer just about creating quality content but is a mixture of different elements. According to HubSpot, Blogs have the 3rd highest ROI across different content formats. Digitization has further revolutionized the way folks around the globe perceive content and blogging as lucrative career options.
I have categorized this guide into three simple segments wherein each part covers a specific aspect. The prominent ones are:
Why Should You Blog in Today's Era?

Setting Up a Blog for Yourself? – How-To Guide

How to Setup a Successful Blog? – 5 Best Strategies that Work in 2023
So, without further ado, let's begin with our first segment:
Why Should You Blog in Today's Era? – The Benefits You Must Consider
Many folks believe that "blogging is dead," but the reality is that – nearly 7 million blogs get published every day. So, STOP speculating and start writing today. It will be one of your best decisions ever made before 2023 ends.
Here are some innumerable benefits of blogging that can help you make an informed decision:
Improves Your Writing Skills
When you start to blog, it improves your writing style and helps you become a better writer. Not just writing, but it also boosts your cognitive ability and enhances your research ability on search engines.
Consistent blogging also helps you become a voracious reader. You start understanding the art of creating grammatically-correct statements, the importance of vocabulary, the right way to insert punctuation within your content, and more.
Can Land You A Lucrative Job Offer
Building an online space for yourself in the form of a blog helps content creators in multiple ways. Few folks use it as an online journal, some use it to promote & market their biz, while some use it solely for penning down their thoughts.
Depending on how you blog, you open yourself to different avenues. Most content creators use their blog for revenue generation (through Affiliate Marketing) or to promote specific products/services (a form of Influencer Marketing). Of late, blogs have also emerged as a viable alternative to manual/printed resumes. Hiring managers for multinational companies are now openly accepting blogs as an online portfolio and hiring writers/ content marketers globally.
Establishes your Authority Online
Consistency in publishing blogs helps you build authority around your chosen niche, irrespective of how many blogs you write in a month. Writing long-form content blogs around a complex topic gives you an added opportunity to establish yourself as the "go-to" person in that niche and builds your reputation around that subject.
Enhances your Knowledge of a Subject
By writing consistently around a topic/niche, you build yourself an authority and improve your knowledge around that subject. While you develop a content creation strategy around a topic, you refer to several other blogs/articles published online. It helps you build a sense of understanding of your chosen topic, and you write better quality content for your blog.
However, as an avid blogger, I caution you against plagiarism. Knowingly or unknowingly copy-pasting some other blog's content on your website/blog might give your website/blog an instant traffic boost but might affect your bounce rate in the long run. A better approach is to:
Inspire Yourself from Other Blogs/Articles & Create Your Version from It.
Doing so will allow your mind to think faster and retain the information for a longer duration. Plus, you shall avoid unwarranted Google penalties due to duplication of content.
Network, Connect, & Collaborate with Like-Minded Folks
A significant advantage of blogging is – "networking" with other like-minded folks. Irrespective of where other bloggers reside, you can interact with them through their blogs, and social media profiles (Twitter/Instagram, etc.). You can pitch in for collaboration on similar ideas and connect on a one-to-one level.
These folks can also help you with any technical issues that you may not have the expertise to resolve. Are you looking for a chat buddy at 2:00 AM? Drop a message in your blogging community, and you can always find someone ready for a quick conversation. It won't be wrong to state that your blogging community serves as your digital family – who celebrates all your achievements, cheers you up when you're low and stands by you during challenging times.
Setting Up Your Blog – The Right Steps You Need to Follow
Irrespective of whether you're switching from the FREE version of WordPress to the PAID version OR directly establishing your blog on the latter, the basic steps to setting up a successful blog remain the same. Keep reading, and by the time you wrap this segment, you shall be running a successful blog of your own. So, let us continue:
Step 1: Picking a WordPress Platform
Before you deep dive into the other technical aspects of setting up the blog, you must know that according to reports, nearly 43.2% of the websites use WordPress as their Content Management System (CMS) today. With this significant adoption rate, it's understandable if you feel confused between the two versions of WordPress available on the internet.
So, if you're struggling with – how to create a successful blog, you must first understand the difference between WordPress.com and WordPress.org. The understanding shall help you determine which version suits your requirements the best and whether you should invest in the PAID version or not.
Step 2: Choose a Unique Domain Name for Your Blog/Website
In simple terms, "Domain Name" is the URL that users type to reach your website. For example, my website domain URL is: 'whereispillmythoughts.com'. Domain Name has to be unique and should resonate with the type of content you plan to showcase to the world. Before you start finalizing your domain names, here are some of the parameters you must consider:
Your Domain Name should be small – It helps the users remember it

Insert relevant keywords in the URL – Helps build your authority on search engines

Include location in your Domain Name – Only if you're targeting a specific region & not a global audience

Avoid hyphen in your Domain Name – it usually indicates a SPAM domain.
You can check out the other best practices for choosing a domain name recommended by Google. It's always a good idea to shortlist a domain name after thorough research and ensuring that it's unique, easy to remember, and SEO-friendly.
Step 3: Choose a Reliable Hosting Provider for Your Website/Blog
Think of hosting as a streaming service/place for your website/blog where it can live after paying a nominal fee. It's what makes your site accessible on the World Wide Web. Unless you've bought a hosting plan for your site/blog, you cannot store your development & other files online. So, choose a reliable hosting provider for your business needs. WordPress community recommends Bluehost as their official hosting provider for different reasons.
Then again, to make a choice, you must understand the basics of web hosting, its different types, and more. Once you are thorough, you can proceed to choose your hosting provider. Make your decision after checking out the following parameters:
Underlying Features & Support Options

Server Locations & Security Features

Pricing & Online Reviews
Step 4: Install WordPress CMS on Your Hosting Platform
Once you've finalized your Domain Name, the Hosting platform, and have made the necessary purchases, login into your Hosting Account. Read the documentation carefully before proceeding to avoid messing with the internal configuration. Determine the correct icon/option that can initiate the WordPress installation process. Remember that most of these platforms either use auto-installer scripts (like Softaculous or QuickInstall) or let you install WordPress using cPanel.
You Might Find This Useful: Step-by-Step Guide to Install WordPress CMS on Different Hosting Providers
Once WordPress CMS gets installed, login into your WordPress Admin dashboard by typing www(dot)yourdomain(dot)com/wp-admin/ on your browser and hit the Enter key. Feed in your correct login credentials (set up during the initial steps) on the login screen, and you're in! Here's what your regular WordPress dashboard looks like: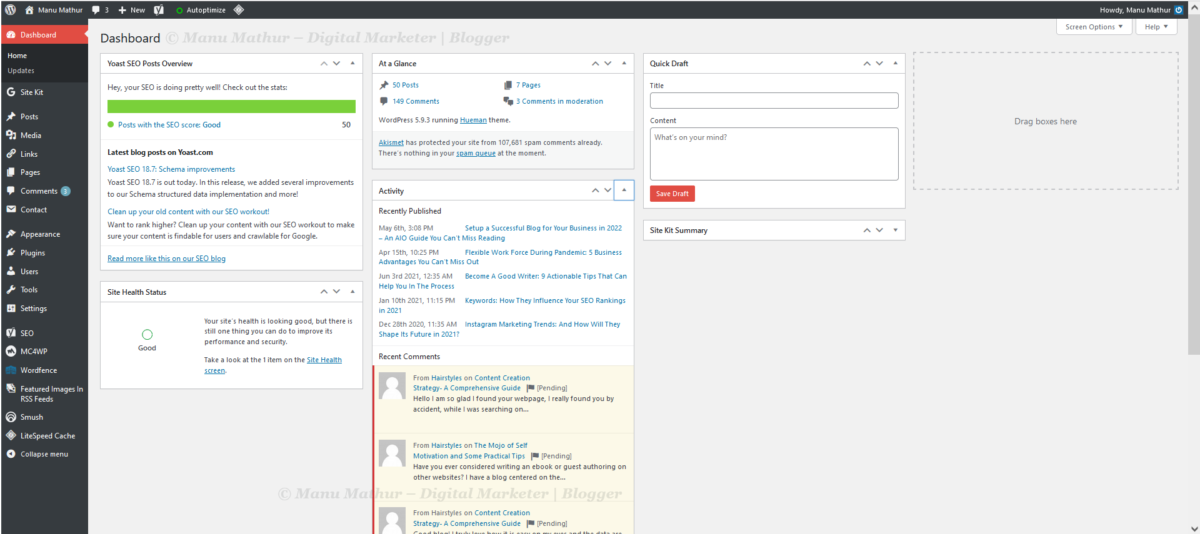 Step 5: Customize the UX/UI & Other Aspects of Your Website/Blog
Post WordPress setup, the first step you need to take is – deciding on a theme for your website/blog. Do a random Google search, and you will find a plethora of Free/Paid WordPress themes worth trying. Whatever theme template suits your goal/objective & business niche the best, shortlist it, and install it on your hosting server.
Check Out This Weblink: How to Install WordPress Theme
Customize the UX/UI of your chosen WordPress theme and other internal settings. You can customize a WordPress theme in three ways:
Through WordPress Admin Dashboard

Using Third-party Page Builders or Frameworks

Tweaking the Back-end code
However, irrespective of which method you choose, there are specific customization best practices (based on my experience) that you must not ignore:
Avoid meddling with the Back-end code unless you're a pro at HTML/CSS/PHP/JS programming languages

Rely on the Staging site to avoid messing up your Live website

Make your theme responsive
A Must Read: Learn How Can You Make Your WordPress Theme Responsive
Step 6: Create & Publish Your First Blog Post
After finalizing the overall UX/UI of your website/blog, it's time to dive into the art of creating content. While you may find people saying – writing is easy. The fact is – It's NOT. You need to understand the following two parameters properly alongside many others before calling yourself a writer. The two vital parameters are:
Grammar and Vocabulary

The art of Sentence Structuring
However, in today's digitized era, content creation involves much more than understanding the basics of grammar and sentence formation. You need to:
Once your content piece is ready, you must ensure that you're leveraging the best SEO practices to market your content and reach out to potential customers.
Head onto the next segment to learn about the best strategies that you can adapt to market your blog in 2023 & subsequently make it successful.
How to Setup a Successful Blog? – 5 Best Strategies that Work in 2023
Understand one fact:
Marketing ≠ Spamming social media with your latest blog post
According to reports, almost 95% of searchers never visit page 2 of Google's search results page. Hence, once you're through with the topic ideation & the creation phase, focus on building a proper action plan to market your website/blog. Taking the wrong steps can impact your blog/website bounce rate, and your conversions, and ultimately give your business a bad reputation.
So, what's the ideal plan of action, you ask? Well, this segment helps you figure that out. So, without further ado, let us dive in: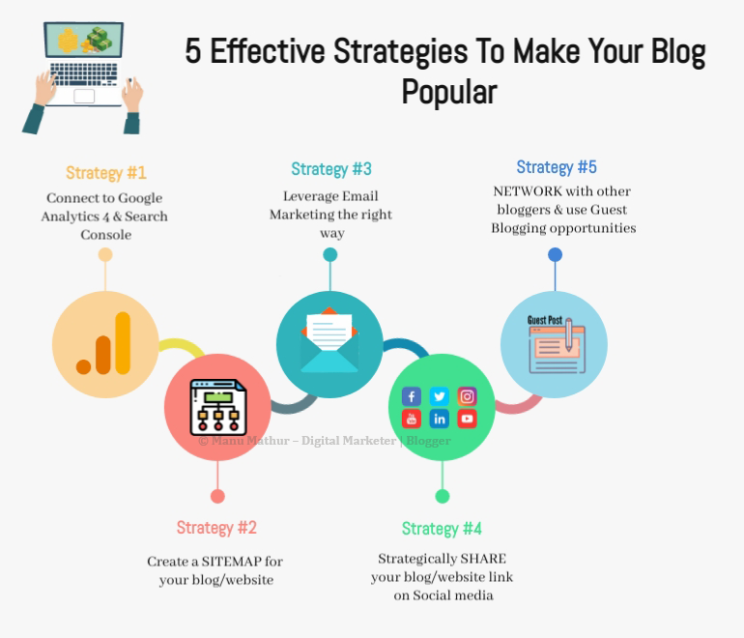 Strategy #1: Connect your Website/Blog with Google Analytics 4 (Previously Universal Analytics) & Search Console
To ensure that your efforts do not get wasted, – interlink your website with Google Analytics 4, followed by Google Search Console. For those who don't know, both Universal Analytics and Search Console are dedicated platforms by Google which can help you:
Monitoring your website traffic

Track user behavior and bounce rate

Disavow bad links and submit your website sitemap
This Guide is Worth Your Time: Learn Everything About Google Search Console: A Beginners' Guide
However, as per the latest reports, Google plans to shut down Universal Analytics by July 1, 2023, and thus the search giant has started requesting its users to switch to Google Analytics 4. As Google states, Google Analytics 4 is an advanced analytics platform that leverages Machine Learning concepts to dig into insights and is privacy-focused. And hence if you're still tracking insights on Universal Analytics, it's time to move on. Feeling confused about how can you make the switch? Check out this guide below:
Must Read: Here's How You Can Switch Your Existing Universal Analytics Property to Google Analytics 4
Strategy #2: Create a Sitemap for your Website/Blog
The second step to promoting your website/blog involves – building a sitemap. If you're new to WordPress, you may not know what a sitemap is and why Google emphasizes having one?
A sitemap file allows search engine giants like Google to discover your website online & analyze it further on different parameters. A sitemap lists information about – the pages, multimedia elements (videos/images), and other files present on your website & how they interlink with each other. By generating a proper sitemap, you inform Google which pages/files are vital for your business and what information they hold.
Also Read: Do You Need a Sitemap For Your Website? Find Out Here
If you're still not convinced, here are some additional benefits that you get by generating a sitemap for your website
SEO Ranking: Using a structured sitemap can improve your website's ranking on search engines & generate significant leads.
Direct Way of Communication: The sitemap file allows you to communicate directly with the search engines & provides them information about a page like – when it was last updated, whether it is available in another language or not, & more.
Prioritize Content: Another benefit of a sitemap file is that you can let search engines know – which part of the website should they index & which they must ignore.
Streamlined Navigation: Sitemap allows the crawlers & the visitors to navigate through all important pages of your website conveniently with minimal assistance.
Must Read: Different ways of building and submitting a Sitemap on Search Console.
Strategy #3: Leverage Email Marketing for the Right Way
HubSpot states that emails generate $42 for every $1 spent, indicating an amazing ROI of 4,200%, which makes it one of the most effective marketing options out there. Precisely, why almost 64% of SMBs rely on email to reach their potential customers.
Hence, if you're struggling to promote your blog, implement a dedicated email marketing strategy to woo your audience. What are its benefits, you ask? Here are the top three benefits:
You can announce your latest product release or share the link to your latest blog post

Emails can help you build meaningful relationships with your readers

Personalized emails with quality content keep your audience hooked up & boost engagement
There are different ways how you can build your email list. So, identify which model works best for your business & implement it today. If you ask, what worked for me? Check out the two pointers below:
Offer your readers some Incentive: Instantly hook your readers by giving them freebies like – eBooks, a free consultation, or a guide on a topic they are keen to learn.
Dedicated Sign-up Form / CTA: Create a sign-up form & place it on your home page. Keep it short & use a strong CTA button to grab your readers' attention.
Next, sign-up for Mailchimp as it allows you to – use predesigned email templates, send out bulk emails, keep track of your messages, monitor the analytics, & much more.
Also Read: How Can You Build Your Email List Within an Hour Using MailChimp
How to Create Email Content that Converts: Know What & How to Write
Compromising the content quality of your emails can tank your business. So, you must emphasize creating quality content that talks to your audience & lead them back to your blog/website. Follow these tips below and use a professional-looking email template for your business:
Provide valuable insights to your readers and convince them that your blog post is their go-to solution

Highlight the USP in your email subject to instantly capture your readers' attention

Personalize your subject to connect with your readers & simultaneously improve your opening rate

Keep your content language simple & easy to understand. Avoid using jargon as it can often backfire

Use your white spacing well by giving proper paragraph breaks & include a few creative images to highlight important parts of your content.

Brainstorm on your Call-to-Action buttons & link them to your desired page to hook your reader & encourage action

Proofread your email content body carefully to avoid grammar errors/typos as it looks unprofessional
I stated before: Marketing ≠ Spamming, and I stand by that policy. Most content creators/marketers believe that blatantly sharing the latest blog post link on social media will give them superb results. The irony is: that never happens. Do you know why? Because these folks fail to understand how social media platforms & their algorithms operate.
With every passing moment, the world is getting digitized & there's a cut-throat competition in the virtual landscape. So, carelessly sharing your website/blog post link on all social platforms only increases your domain SPAM score and leaves you behind others by a long shot.
If you're a rookie & wondering about the best strategy to promote your blog post/website on social media, here are some tactics I believe you can find useful:
Include the blog/website link within your social media bio

Convert important points from your blog content into PowerPoint slides/graphics using online graphic tools like Canva or Adobe Photoshop

Find the right hashtags to include with your social media posts to target the right audience.

Study the social platforms carefully to identify when your posts get the maximum engagement & clicks. Follow the timeline and get the maximum conversions possible.

Rely on paid advertising options like PPC campaigns, Google Ads, and others to ensure your content appears right in front of your target audience.
Also Read: The Ultimate Guide to Google Ads [Examples]
Strategy #5: Network with Other Content Creators & Leverage Guest Blogging Opportunities
We as human beings thrive on communication – it forms the very base of our existence, and we cannot deny it. So, leverage this aspect to connect & network with other folks from your industry. Use guest blogging as your ultimate marketing strategy & expose your brand to a wide array of untapped audiences.
In parallel to interacting with other creators & thought leaders out there, guest blogging also allows you to establish your brand authority & start a successful blog. If you're wondering how you can find genuine guest blogging opportunities, you can start by looking at platforms like – AllTop, Bloglovin, and OnTopList. Even LinkedIn is emerging as an ideal platform for finding potential guest blogging opportunities. I have personally tried AllTop, Bloglovin, and LinkedIn and all of them are equally great. These are mere examples where you can discover a list of different blogs (from your niche) that may or may not accept guest posting. So, start digging and finalize a list of all potential blogs to leverage for promotion and marketing.
Don't Miss Reading This Guide: Find Out The Best Guest Blogging Websites in 4 Easy Steps
Once you have a decent list of blog websites to target, create an account on MOZ (if you don't have one already) and check out their domain score. Start targeting sites with high authority as there's a better chance of your content getting ranked through them.
How Did I Leverage Guest Blogging for Promotion: An Insight into What Worked for Me?
In addition to the above, you can adopt several other tactics to market your blog/website the right way. Even though every blog/website is different, here are some tried-and-tested strategies that helped me in my guest blogging journey:
Build Connections: Build a relationship with other bloggers as trust plays a significant factor when we talk about guest blogging. Get to know – the type of content they publish, interact with them through comments/likes, sign-up for their newsletter, and then send them your pitch. By following this route, you ensure that your pitch has a better chance of getting shortlisted.
Keep Your Pitch Informative & To-the-Point: Avoid adding too much information (more than required) in your guest pitch, as it often backfires. Attention span & time are two major issues for most content creators today. So, the shorter your pitch (with relevant information), the better for everyone.
Do Not Underestimate the Power of Linking Many bloggers allow putting a backlink to their website/blog to drive more traffic, generate leads, & get SERP visibility. So, if you have that option open, use it well & track your incoming traffic using Google Analytics.
Feedback Can do Wonders: Getting the proper feedback ensures that you're growing on the right track. So, include effective call-to-action statement at the end of your blog posts to encourage readers to share their opinion/views on the post & share it within their network.
Conclusion
We are already seeing too much competition in the virtual space in today's era. So, adopting the correct promotional tactic to outrank your competitor & keep a stable revenue matters. Irrespective of which strategy you implement, wait at least 3-5 months to see the outcome of your efforts.
Other than – understanding your target audience requirements, creating quality content, & performing SEO, you can take the help of these 25+ Best Blogging Tools to Promote your Blog/Website in 2023. The right combination of all parameters can significantly improve your traffic, simultaneously giving you mind-boggling conversion rates.
What tactics do you rely upon & leverage to promote your website/blog in 2023? Do you have any secret formula that assists you in creating quality content regularly? Share your thoughts/views in the comments section below to help the newbies.
Featured image courtesy: Canva