Did you know that while you are sound asleep, millions of content pieces are created all over the world, surprising, isn't it? Have you ever wondered why your content fails to enter the A-list of these millions of excellent content pieces? There is a 100% chance that your content is not reaching the right audience or delivering the right message. You can create one of the best content pieces, but it is not necessary that it reaches the target audience. In today's era, the digital platform is overflown with abundant content, whether in the form of videos or blogs. For your content to be effective and efficient, you must have a content creation strategy.
Let us know more about it in detail.
WHAT IS A CONTENT PLAN?
To understand the content creation strategy properly, let us begin with the very basic step: its definition:
Content strategy refers to the planning, development, and management of content — written or in other media
To reach the right audience you need to understand the power of right content creation strategy. Designing the right strategy helps you in a lot of ways like:
It helps you upgrade your marketing skills

It helps you plan and manage your content in a better way

Right content strategy helps you create and deliver the content faster
Most companies don't have a documented content strategy which leads to their failures. Once the organization understands the power of right content creation strategy, its business operations start falling in place. It also keeps customers engaged and enforces them to use your product or service in a good way. The company gets to reach its desired goal and connect with their target audience with the right planning and curation strategies
CONTENT STRATEGY AND DIGITAL MARKETING
The rising demand for quality content is supplemented by the already risen digital market. High-quality content is one of the core ingredients that is put down in digital marketing. Companies understand that they require a digital content strategy to flourish. Customers and search engines both drive the current digital market, so it's important for the organization to curate content which ranks well on the Google SERPs.
You need good content to get through Search Engine Optimization. Content Marketing aims at creating content, publishing and distributing it to the intended audience. Without a proper digital content strategy, you can't think of reaching out and delivering to your target audience.
Also Read: SEO Ranking – Why it Matters and How Can You Improve It?
Furthermore, it is important to dive in and fish out some knowledge before preceding to the actual motive of this entire text. The aim is to build an effective plan and strategy. Your content has to be tossed far and wide and then brought back. The planning strategy has to be a sure-fire way to protect it against every obstacle.
HOW TO DESIGN AN EFFECTIVE CONTENT STRATEGY?
Every small business and startup understands the value of content marketing. It is very important to plan and build an effective content strategy. Through the eyes of a budding business, content is their ladder to success. Good content can give them ways to move ahead, but in order to grow, one needs to have mind-blowing content strategy planning. However, content and creation strategy could vary amidst different businesses. Still, it is important to have documented content plans and content strategy no matter how basic it is.
HERE IS HOW YOU CAN BUILD AN EFFECTIVE CONTENT STRATEGY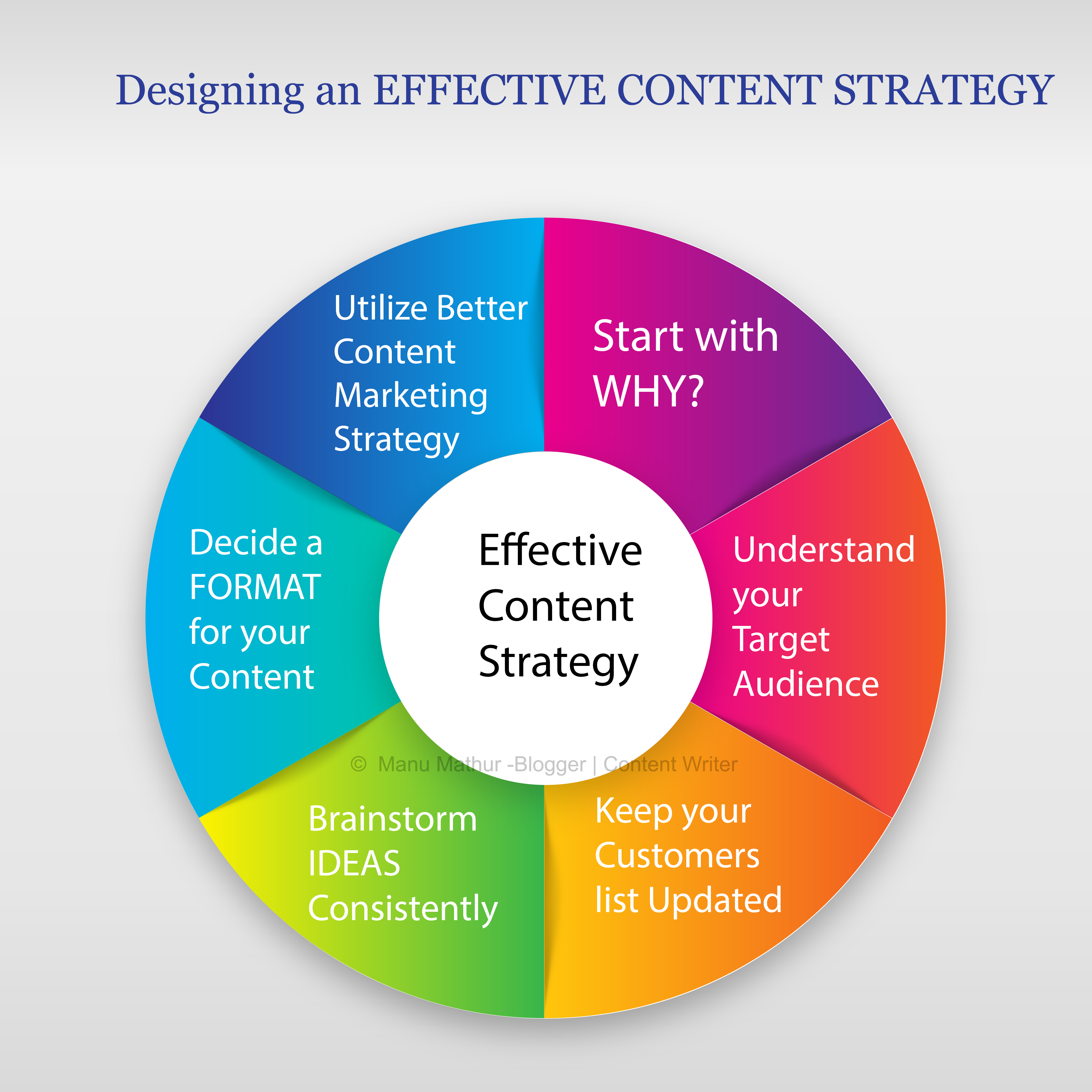 Start with WHY? in your Curation

Understand your Target Audience and What Captivates their Attention

Figure out, Set Up and Keep your List of Customers (pertaining to your Blog) Updated

Brainstorm Ideas on a Consistent Basis

Decide a Proper Format for Your Content

Use a Better Content Marketing Strategy
Start with 'WHY?' while Creating the Content
Before you start penning down the content, you must have an answer to 'WHY'. You must be clear with the reasons why you are creating a particular content piece and what purpose will it solve for your target audience. You must find the right words to shout out your message.
Understand your Target Audience and What Captivates their Attention
Understand your target audience in the best possible manner to enrich your business. Creating user personas is another approach you can apply to best define your audience. Understand their demography, ideology and other relevant details to ensure you are creating quality content for them. Catering to two different ideologies at the same time may impact your business in a negative manner, so follow the right approach.
Identify, Setup and Update your Customers List Regularly
If you own a blog, ensure you are keeping it up-to-date. Your content should be both relevant and authoritative at the same time to ensure it ranks well on the search engine. Your content needs to be effective so that your customers invest their time and money in your service. Create a subscription list catering to particular demographics and send out regular and informative e-mail.
Brainstorm Ideas on a Consistent Basis
Once you have figured out a motive behind your content creation and an audience to engage with, simply pen down your thoughts. Brainstorm ideas on a consistent basis through social platforms or simply by being more observant. Take inspiration from anywhere and everywhere and strategize in a better way to keep up your content creation.
Decide a Proper Format for Your Content
Pick a format and ensure it flows across all your content pieces irrespective of the niche chosen. If your content caters to music niche, ensure that your content speaks volumes about it. Formats are designed specifically to illustrate your ideas so both your content and format should be in synchronization with each other. Search for more ideas to enhance your content and figure out a proper format that must vary w.r.t blogs/videos/podcasts/infographics etc.
Use a Better Content Marketing Strategy
As content is an integral part of Digital Marketing, so, you must design both the strategies together. Channelize your marketing skills through, Search Engine Optimization (SEO), content marketing, PPC Campaigns, etc. You can also pick multiple social media platforms like Instagram, Twitter, Pinterest, etc. depending on the content you plan to market.
SOCIAL MEDIA MARKETING STRATEGY
Social Media Marketing holds importance as it is an organic way to promote your content. With the right SMM strategy, you get an edge to track your progress and plan your goals across social media platforms. To save time, you can take the help of a social media content strategy template.
There are many FREE or PAID templates available online which you can make use of depending on your requirements. These social media content strategy templates are beneficial in a lot of ways like:
They are easy to understand

They can reduce your workload without any external efforts

You can plan and schedule your work in advance in a calendar form.
CONTENT STRATEGY AGENCY
With people transitioning towards Digital Marketing domain, even the content industry is flourishing at an equal pace. However, too much of content planning and strategizing can leave you terribly exhausted. So, what's the best approach to manage your resources well so as to meet every requirement? The answer lies in taking the help of a content strategy agency.
As the name suggests, these content strategy agencies are a team of people who assist you with your content requirements. You can seek their help in:
For creating your content strategy

Planning your content and curating it as per the listed requirements

For creating a proper strategy and even in SEO
So, if you seek the best outcome, better contact these Content Strategy Agencies TODAY!
BOTTOM LINE
The bottom line is that you must understand that content strategy can vary w.r.t the audience and the niche you are dealing into. It can serve different types of people who perhaps like to strategize their journey on their choice. Your ideas may not fit someone else, so its best to create content strategies on the basis of your business and its intended audience.
Also Read: How creating a Sound Content Strategy Can Attract and Retain Your Customers
Following any particular content creation strategy for promoting your business across social media? Go ahead and share your secret mantra with us through the comments section below. Your tips and strategies can help content marketers create better content strategies leading to better user engagement.