With ChatGPT (An AI chatbot) coming to the forefront, it's pretty convenient for everyone to start their journey to become a writer. However, to create a successful blog in 2023, you need not just your writing abilities, but a thorough understanding of other aspects too like – keeping track of how your content is performing, how much traffic you're getting on monthly basis, leveraging web-analytics tools like Google Analytics to track your conversion/engagement rate, etc and then use these data metrics for decision making.
In this blog post, we cover one of the most crucial aspect of Blogging and Google Analytics, termed "Bounce Rate" and what role it plays in making a blog a success/failure. This blog will primarily talk about:
Understanding the Term: Bounce Rate

The Bounce Rate Equation

Significant Factors that Affect Your Website/Blog's Bounce Rate

Actionable Tips to Minimize & Improve Your Bounce Rate
So, without further delay, let's begin with our first segment:
Understanding the Term: Bounce Rate?
The term Bounce Rate often confuses people for no apparent reason. To understand the complexity of the term, you can refer to the simplest definition given below:
The percentage of single-page visits (i.e visits in which the person left your site from the entrance page). Bounce Rate is a measure of visit quality and a high Bounce Rate generally indicates that site entrance (landing page) aren't relevant to your visitors.
The Bounce Rate Equation
Knowing just the definition isn't enough. If you wish to be a great writer, understand the basics behind how to calculate Bounce Rate? You can calculate the Bounce Rate for your website/blog by simply following the given equation: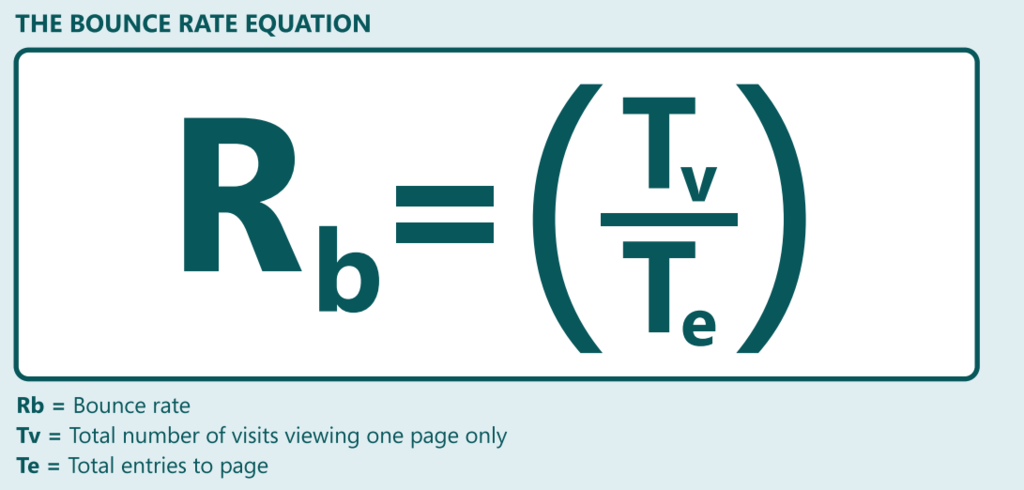 As per GoRocketFuel.com report, the average Bounce Rate range is between 41 and 51%. However, one thought that passes every webmaster's mind is – What if I get no traffic on my website/blog? The thought scares them to the core, but the secret is that with few simple checks you can easily grab your target audience's attention. Let us first take a peek at the factors which force your incoming visitor to bounce back from your website:
Poor UX/UI Design

The Website/Page fails to Meet Your Audience's Expectation

Poor Content Quality or too much Unwanted Pop-ups & Advertisements

Unknowingly clicking the BACK button on the Website/ Page

Session Timeout
These are just a few major reasons that make a visitor bounce back. So, ensure your blog/website are free of these trivial issues.
By far, you have made yourself familiar with the basic definition of Bounce Rate and how can you calculate it. So, let us move onto the next segment which holds major importance and you must keep it in mind before you make your website/blog go live on the INTERNET.
Significant Factors that Affect Your Website/Blog's Bounce Rate
Before I explain you this topic, let us do a simple exercise. Take your smartphone/laptop/tablet and open Google homepage on it. Once you are on the homepage, just type in:

Major Factors affecting Bounce Rate of a Website
As soon as you hit the ENTER key on your keyboard, Google (the father of search engine) presents you a long list of search results pages (SERPs). If you do not understand the basis of how Google found these SERPs, you won't be able to decide on which web-link to pick out of the lot and which one to discard.
Every other web-link provides you with a different information, but as a webmaster you must know the most common and widely accepted factors responsible for affecting the Bounce Rate. Let's check out the factors again here:
Landing Page Design
The most common mistake done by beginners. When I began my blogging journey in 2015, even I committed it, but now after 3 long years I do understand the importance of landing pages. I made some notable changes in my landing page and I am glad the results were astounding.
Landing Page is just another name for a page that you show to your incoming visitor. Hence it is important that your landing page is simple yet creative enough to keep your visitor for a longer duration on it. Check out this amazing beginners guide to Landing pages curated by Kissmetrics to get a better understanding on the landing pages.
Page Load Time
Google considers load time to be one of the most important factors. As per Google, the more time your web-pages take to load, the higher your Bounce Rate gets. So, it's always better to keep the Page Load Time to a minimum to gain higher conversions. Search engine Google suggests ideal load-time to be below 1.5 seconds. If your webpage takes more time, better take help of these simple tips on how to reduce your website's page speed suggested by HubSpot. It's definitely time-consuming, but with consistent efforts, you would observe positive results.
Hyperlinks Matter
Recent updates from Wired (popular tech-portal) suggests that Google plans to kill URLs to cut down on the cyberfrauds happening around the globe. But, still, we cannot deny that hyperlinks play a big role in calculating Bounce Rate. Based on my personal experience, I would say – Legitimate hyperlinking (aka Link Building) is best if done correctly. However, one must exercise caution as there are few aspects one needs to keep in check. 
Read this amazing Guide by MOZ on Link Building to understand how correct hyperlinking can benefit your website/blog. If you still find yourself confused, check out this other guide by MOZ highlighting 5 reasons to link to other websites and you will gain more insight on the topic.
Take a better look at the infographic below as it highlights some notable factors (including the ones listed above) affecting Bounce Rate and tips to improve it easily: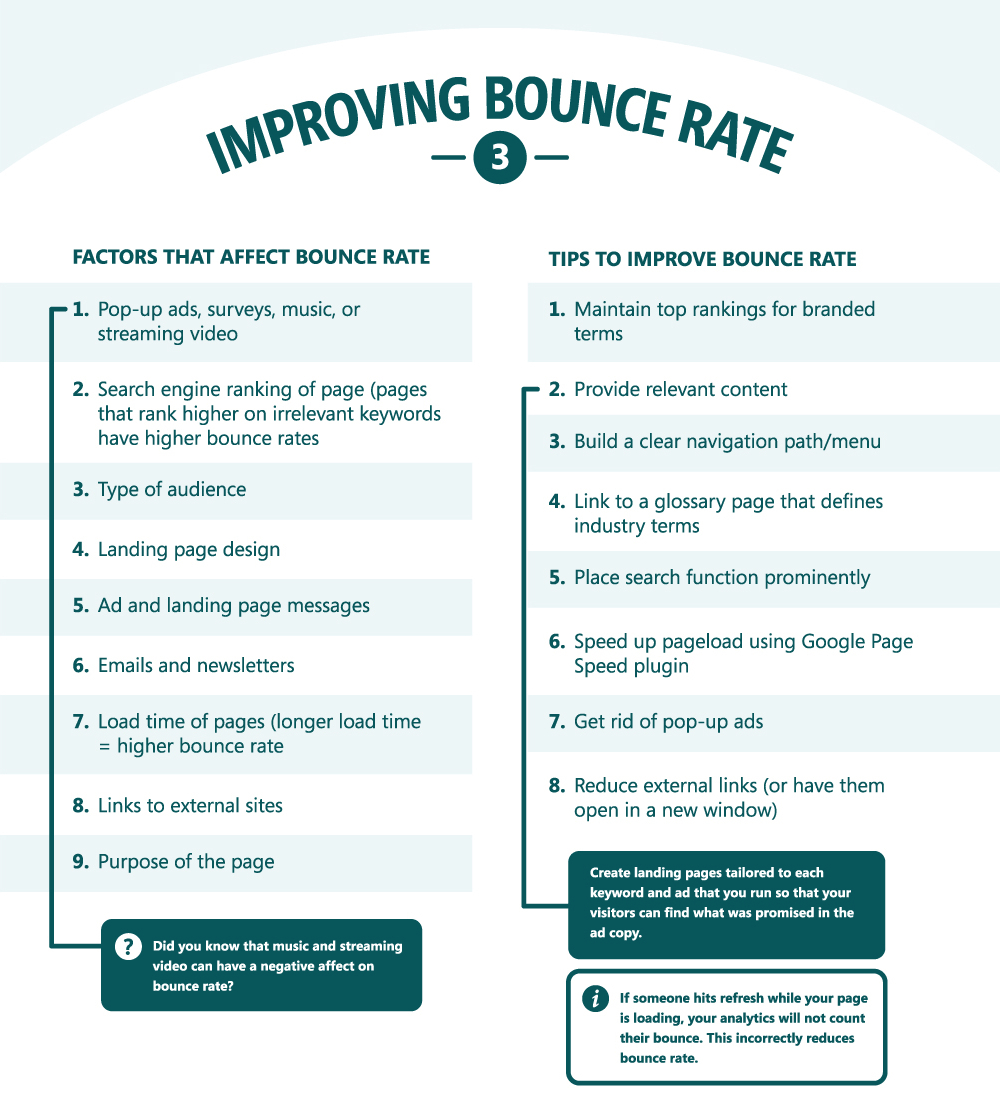 Covering all the factors is beyond the scope of this blog post. So, believe in the saying – Google is your best friend and research on the rest factors by yourself. Once you find yourself accustomed with all the relevant factors, proceed for the next segment.
Actionable Tips to Minimize & Improve Your Bounce Rate
This happens to be the last, but the most important segment of this extensive blog post. Before you launch the website, you must adhere to a few basic principles leading to a high Bounce Rate. The below factors might look easy, but you can only succeed if you remain consistent.
Quality CONTENT is the Key
Taking the website Live should never be your goal as a webmaster. But you must work on keeping your visitors engaged with your content. Play with words without compromising on the quality. Using simple vocabulary is your best bet to success. Keep your content informative and don't write anything just for the sake of writing.
A while back, Quantity had a considerable impact on Bounce Rate, but now it's more about the Quality of Content. Don't forget to check the Forbes weblink to understand 10 major reasons why quality content matters.
Identify your Target Audience
Not just quality content, but even your target audience plays a big role. You must emphasize on using relevant keywords to attract your target audience and improve your overall engagement. Proper keyword research alongside a brief yet relevant meta-description helps in reaching out to the right audience on social media.
Check out the importance of meta-descriptions and implement the tactics on your website/blog accordingly. Proper implementation will not only improve your web traffic but will also help you attain a good rank in the SERPs.
Remove Annoying Advertisements and Pop-ups
Not every webmaster considers Advertisements to be responsible for the increase in Bounce Rate. But, the truth is Advertisements affect your user-experience considerably. Pop-ups are long forgotten, but Advertisements are still active. These unwanted Advertisements or pop-ups disrupt your visitor's engagement with your website impacting your web traffic. So, if your pop-ups or advertisements have nothing constructive to share, better remove them for good.
We love websites with proper navigation as one-click and we can redirect to the web page of our liking. So, do include proper navigation on your website/blog. Hyperlinks are another way of giving your visitors the liberty to move between webpages without leaving your website/blog. The more time a particular visitor spends on your website/blog, the better session time you achieve on your Google Analytics dashboard.
If your website/blog fails to answer user's queries, or it if lacks proper navigation the user is bound to flip out. Too many back-outs would increase your website Bounce Rate considerably, so work on your navigation with utmost precision. Check out some easy hacks to keep your visitors engaged onto your website as suggested by popular website Entrepreneur.
Conclusion
Start looking at options to improve your website bounce rate and you will find plenty of actionable tips at your disposal. Give direct links to your social media profiles to allow incoming website visitors a chance to connect with you.
It will improve your website's conversion rate, enhance your engagement ratio, and help your blog/website rank better. You can also leverage different SEO strategies to keep your website/blog updated with current market trends.
What steps do you take to ensure your Bounce Rate stays low? Share in your tips and thoughts in the comments section below.