The content industry has changed a lot over the years. When I stepped into the blogging world in 2015, people had limited means to promote their content. As time progressed, people started consuming content like never before. Currently, the audience consumes any blog post, social media update or an infographic within 60 seconds. This gives an understanding of the power of content marketing and how it became a trend. Of late, the audience started showing more interest in audio content i.e., podcasts. So, considering the shift, the content marketers started using podcasts in their content marketing tactics. Their blog posts, video content, etc. focused more on podcasts and they were able to engage with their target audience quickly and more efficiently.
If you are beginner, you might not be familiar with podcasts at all. Your mind would be full of questions like:
What is a Podcast?

How can Podcasts help me reach out to a wider audience?

What tools can help me out in creating a good podcast?
The list of questions is actually never-ending. Be it any domain, a beginner has queries of his/her own. So, keep reading and get the answer to all your queries w.r.t podcasts and how best can you utilize them for your personal brand marketing.
Podcasts – A Brief Introduction
Being a part of digital space, it becomes important for you to find out interesting ways to engage with your target audience. New technology keeps coming to the forefront every single day and as you read above – Podcasts are the latest in demand. So, what is a podcast? If you go by the Wikipedia definition:
A podcast (also called a netcast), is an episodic series of digital audio or video files which a user can download in order to listen to. It is often available for a subscription so that new episodes are automatically downloaded via web syndication to the user's own local computer, mobile application, or portable media player.
Confused with the technical jargon? No issues here's the layman explanation – A podcast is commonly referred to as on-demand internet radio talks. It's a combination of two words Pod and Broadcast, merged together to form the word – Podcast.
Podcasts are just like a radio discussion between the speaker and the listeners. However, their popularity is defined by the audience engagement and interest (clearly shown in the image below), unlike traditional radio stations. So, if you plan to setup a podcast of your own, head over to the next segment and learn the ABC of podcast setup in detail.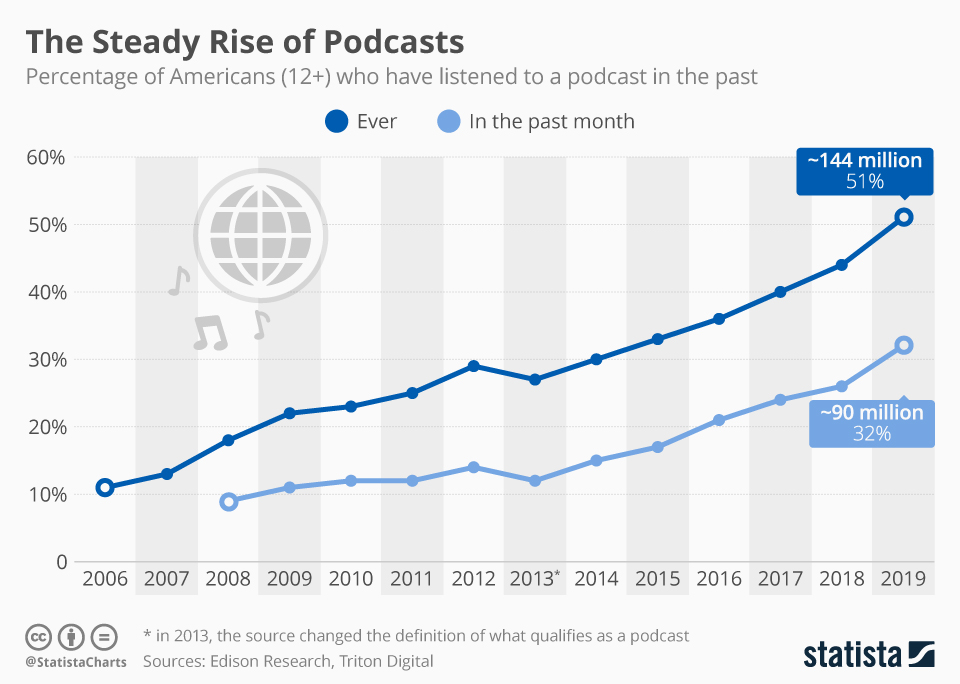 Setting Up Podcasts – The Step Guide
You don't need to be a tech-savvy person to understand the process of setting up podcasts for your personal or professional usage. The steps are easy-to-understand and require you to walk-through via different segments:
Design a Content Strategy
The thumb rule to surpass your online competitors is by leveraging the right marketing tactics. To establish a great podcast, you must first understand who your target audience is and what interests them the most. Once you have an understanding, design a content calendar for your podcasts and deliver it to your audience on time. If need be, hire an expert – one who can help you classify your podcast subject into a series of episodes all arranged in a proper sequence.
A properly designed content calendar on a weekly/monthly basis helps you in managing your podcast routine in a better way. Additionally, you get enough time to focus on creating quality content and simultaneously record it.
Right Equipment can Make all the Difference
Are you one of those listeners who gets overwhelmed by the podcasts because you believe they require tech expertise? It's time for the Truth be Told because nothing of such sort happens when we set things up. To setup the right podcast, all you require is a combination of the right equipment. The right equipment cuts down your editing time drastically giving you enough time to focus on other aspects.
Beginners often get confused when it comes to picking up the right equipment for podcasts. It's never easy to just pick one out of the blue when you see a wide range of options. So, if you too are facing the same dilemma, check out this amazing post by Kim Barloso wherein he lists down 5 Best USB Microphones For Podcasting.
Got more confused on the options and still contemplating the pros and cons of every single one of them? Take a notch down and listen to what Pat Flynn – (famous online entrepreneur and podcast expert) has to say about choosing the right equipment:
Start Recording, Uploading Your Podcasts
If your podcast involves a one-to-one conversation or multiple speakers, record your voices individually. Once everybody has recorded their part of the audio, you can stitch it together to create cleaner audio. Once recording, editing and producing is complete, upload your podcast to any of the following hosting sites depending on your requirements and choice. I personally recommend you to check out the following hosting providers:
Libsyn

Soundcloud

TuneIn

BuzzSprout

Blubrry
Also Read: 7 Best WordPress Podcast Plugins: A Basic Comparison
You can even try iTunes for the same as it too has emerged as a good option for many users. Follow the below 4-step guide to successfully get your podcast live on iTunes:
RSS Feed Creation: Sites like Libsyn automatically creates your RSS feed.
Open the iTunes store and click on "Submit a Podcast" option: Uploading your podcast on iTunes is easy. Just follow the navigation – Open iTunes >> Open your store >> Click on Podcasts from the top menu >> Find 'Submit a Podcast' link in the right column under Quick Links
Enter your FEED URL: Fill out all details like Name, Author and a proper description
Click Submit: Once you Submit your podcast, iTunes sends you a message stating that your podcast will go through a review process. After a span of 48 hours, you get an approval e-mail and within 3-4 days, users can search and find your podcasts in the iTunes store.
If you listen to podcasts you must be knowing that their publishing time, duration everything varies. However, to get the best engagement possible, you can check out the statistics listed in the below image: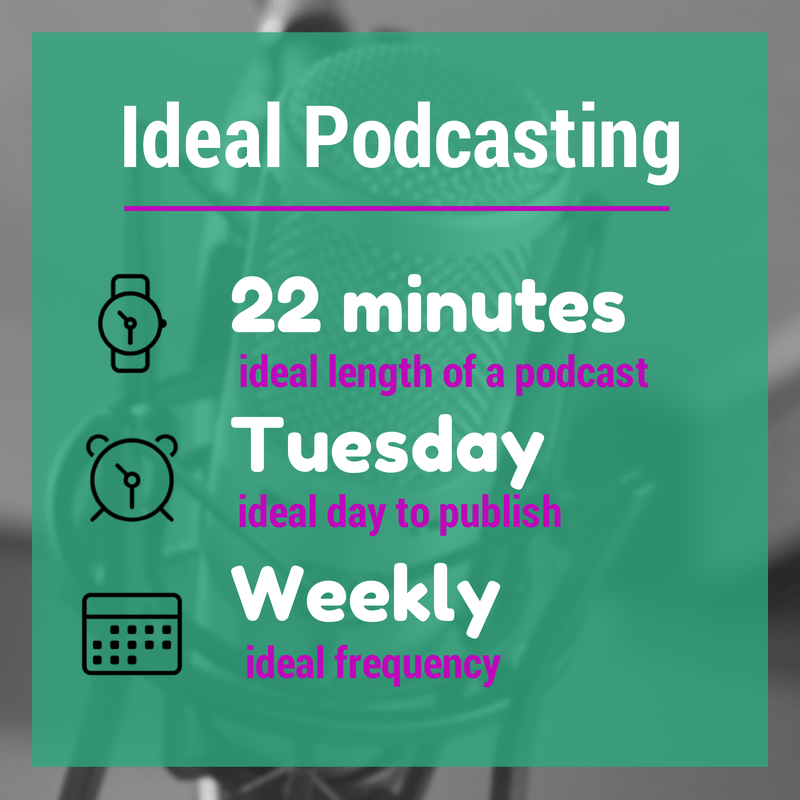 Podcasts – How It Benefits You and Your Brand
A well-conceived podcast gives a tremendous boost to your business from all segments. The agencies find it much easier to incorporate podcasts in their marketing plan as they have the pre-requisites and the right resources. But, if you are beginner, you might not be that familiar with all the key benefits of podcasting. Here's a quick summary of all the benefits and how can you utilize them for your personal branding:
Personalized Content Delivery: With podcasts, you can directly deliver the content to your intended audience. It's always better than sharing the same content/information through e-mails or any other formats.
Helps You Connect WIth Your Audience: A personal touch is always appreciated by the audience. If you podcast regularly, the audience starts becoming familiar with your voice and the overall presentation style. It helps you in building an effective relationship with your target audience and gives you the opportunity to know what interests them the most.
Easily Accessible: Podcasts are portable and can be carried anywhere. The listeners can simply download the podcast once and then listen to it while driving, working in the office or while performing any other task. This ease of accessibility is another important factor why podcasts are becoming everybody's favorite.
Improved Conversions and Positive Branding: If you a regular podcaster, you must be having a strong connection with your listeners and that is what podcasts are known for. Also, if you create unique and interesting content, you get a lot of social shares without doing much of self-promotion. Social shares boost your conversion rate and give your brand a positive online reputation.
Conclusion
Even though users and content marketers are still quite new to podcasts, but given their popularity, one thing can surely be stated – Podcasts aren't going anywhere and are here to stay for a long duration. So, stop waiting for the right time and start investing your time in creating quality content for your podcasts. You can also check out this Forbes article by Jules Schroeder to get some insider tips on podcasting.
So, are you finally planning to launch your podcast? If yes, don't forget to share your podcast link with me. It would be a pleasure to listen to your podcast series.
Do you still have some questions to ask about podcasting? Just want to share your favorite podcast list with me? Feel free to reach out to me via the comments section below.
Image Courtesy: Buffer and Statista