Earlier today Google decided to shut down Google+ platform after a bug exposed 5,00,000 user's data, while on the flip side, the search engine giant also organized its annual hardware event – the #MadebyGoogle event. The event saw the unveiling of three new products: A smart display and Home Assistant – Google Home Hub; Pixel 3 Smartphone; and a Pixel Slate which is a combination of both a laptop and a tablet.
Continuous data leaks have made users worried about their privacy. Understanding their predicament, Google team made the audience understand how it's trying to make privacy and security their top-most concern; how important is Artificial Intelligence in our daily lives and a bit about Digital Well-being. After these initial discussions, the unveiling of products officially began. So, without wasting too much of your time, let's scroll over to each product one-by-one and see what makes them a perfect buy for the audience:
Google Home Hub
Google Home Hub is a 7-inch long Smart Display and Home Assistant. Also, it won't be wrong to call it an advanced variant of Google Home and gives a tough competition to Amazon Alexa. Similar to Alexa, Google Home Hub can stream media, respond to user queries and keep you up-to-date with the latest happenings around the globe.
Additional Features:
Apart from the streaming of media and answering user queries, Google Home Hub can do a lot more. A quick peek at its features:
Integration with various Google Apps  like Google Assistant; Google Photos and YouTube

Google Assistant comes with NEST integration and the ability to identify the user's voice and provide personalized suggestions. A Parental Control feature to omit explicit content

Google Photos comes with Live Album feature allowing users' to view photographs of a certain person in a slideshow mode. The slideshow would contain the best clicks pre-selected by Google Assistant leaving out the blurry photographs

6 Month YouTube Music and YouTube Subscription

A dedicated Android Application integrated with Home Hub to show users Current Status of their devices

Ambient EQ – Smart feature; Manual Downtime and inclusion of Titan Security are some other add-ons
Note – Google Home Hub comes with no additional camera to ensure the privacy of users remains intact.
It comes in four color variants and supports almost 200 million brands which make it usable for almost every household. So, if you are interested in purchasing this smart assistant, head over to Google Home Hub Official page and pre-order it for just USD 149.
Google Pixel Slate
Google Pixel Slate – a 12.3-inch tablet design works perfectly for students, corporate individuals and college students; while its portability allows you to use it both at home or while you are traveling around the globe. Let me give you a quick snapshot of the latest features of Pixel Slate:
Revised and Simple user interface; split-screen functionality

Fingerprint sensor on the Power button; protection by Titan -M Security

Powered by variants of Intel processors [Celeron; M3; i5; i7] each with its own set of storage ability

8-megapixel Camera [Rear + Front] with Portrait mode and wide angle lens for taking selfies and photographs

48Wh 6-cell Battery giving 10-hours of uninterrupted playback

Ability to automatically download the latest updates

Two USB-C charging ports; keyboard connector; Wi-Fi and Bluetooth capability
Note: Prefer buying a Bluetooth headphone if you are a music lover. As you won't be able to find any headphone jack in Google Pixel Slate. 
Storage and Cost
The latest Google Pixel Slate offers you different choices to pick from each with its own set of storage and cost prices. The below image gives you a clear demarcation of each variant, its storage capacity and the cost structure relative to that particular variant.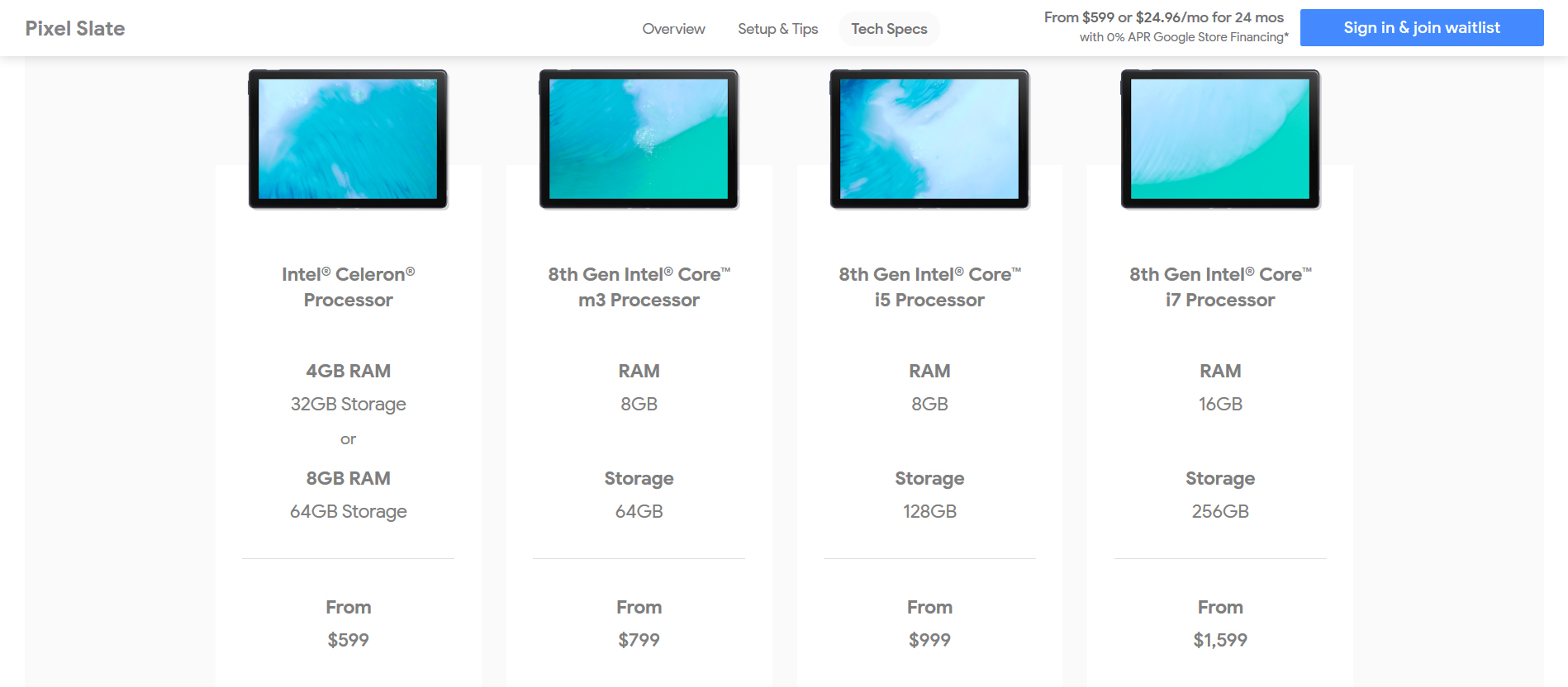 Shelling out USD 1600 on Google Pixel Slate won't be recommended as you can utilize the same amount on purchasing a reliable MacBook or Surface. Two other accessories which you can purchase with Google Slate includes:
Backlit Keyboard: Worth USD 200 and offering tactile and comfortable typing support

Google Pixel Pen: A regular Stylus worth USD 100
Though you can boot Pixel Slate with Linux OS, yet there are users who still prefer Windows over Linux OS. This one factor would contribute a lot in determining the purchase ratio for the device across the globe.
Google Pixel 3 and 3 XL
After a long wait, Google unwrapped both the Pixel 3 and the Pixel 3 XL smartphone. If we take a look at their tech specs, Google surprised the users by including a wide range of much-awaited features. Some notable specs common to both the devices include:
Android Pie OS [v9.0] + Google Assistant support

Octa Core Snapdragon 845 Processor [the fastest processor ever built]

4GB RAM + 128GB Internal Storage Capacity

Unlimited Storage offered by Google Photos.

YouTube Music: Subscription-based Service by Google

12.2MP dual-pixel Rear + 8-megapixel Front Camera support

2915 mAh Battery [Pixel 3] and 3430 mAh Battery [Pixel 3 XL], both with Fast Charging support
What Differs Between the Entire Pixel Series?
Google Pixel 3 comes with a 5.5-inch display; Pixel 3 XL offers a display resolution of 6.3-inches

Google Pixel 3 comes with USD 799 price tag; Pixel 3 XL is worth USD 899
It's not just the display size or price tags, but there are various other factors which make these 2 devices different from the last year's modules. Lets' take a look at those factors one-by-one:
Top Shot: Take the best possible shot to capture the perfect memory

Night Sight: Let go Flash for good now. Its an important camera update allowing you to click better photographs than Apple iPhone XS

Google Playground: A unique feature that shows animated characters within your device camera. Integration of Google Lens within the camera further allows you to search for anything which comes within the camera frame

Call Screen: Feature which allows Google Assistant to provide an on-screen transcription of the incoming calls

Duplex Technology: Let Google Assistant book appointments for you over the phone in a natural voice
Also Read: Quick comparison of Pixel Series smartphones
You also need to purchase Google Pixel Stand for USD 80 separately to charge your Pixel device. You can find the accessory on the Google Store. As soon as you dock your Pixel smartphone on the Pixel Stand, it automatically activates Google Assistant and Live Album feature on your gadget.
How to Purchase Pixel 3, 3 XL?
Planning to purchase Pixel device for your loved one? Just head over to the official Google Store website to pre-order your device. Though Google has restricted the pre-ordering only to U.S. residents, it is just a matter of time. Tech experts at Google have confirmed that the global release will begin shortly.
Personally, I believe Google has done a fantastic job, however, I would love to read your personal opinion on all these Google products. Share your opinions via the comments section below. Also, share which product you would purchase first and what makes it unique for you? Your experience in the comment section will be highly appreciated.
Image Courtesy: Google