Snapchat has always been concerned about its advertising business. With the latest Snap Accelerate update, one can say Snapchat in 2017 replicates Facebook as it was seen in 2012. The firm is known to widely imitate largest social networking website Facebook from quite a while.
The latest add-on targets the same marketers which Facebook did to expand its mobile ad business. Snap Accelerate will enable mobile start-ups to advertise on Snapchat. One can take benefits in two ways:
Either in the form of getting early access to new ad products
In the form of credits which one can use to purchase ads
Many believe Snapchat released Snap Accelerate to lower down the barrier to entry for advertisers. The company now allows the brands to automate their Snap Ads purchase by releasing an advertising API. Corporates can buy Snap Ads on their own and can use them to create vertical video ads using two self-serve tools offered by Snapchat.
By targeting startups,  Snapchat allows them to expand their user base as well as business. The more the business grows, the more financially stable these start-ups will get. The stability will in turn allow them to purchase Snap Ads more easily. As the count of successful case studies improves, more companies will pitch in for purchasing Snap Ads.
Snap Accelerate Target Audience
As per the official developer page of Snapchat, the new program i.e. ,Snap Accelerate will target three startup types:
Commerce
Entertainment
Gaming
However, not every startup will benefit from Snap Accelerate program, there's a unique catch for them. These startups must be interested in direct response advertising and should operate consumer-facing mobile apps. In simple language, Snap Ads will target only those organizations that helped Facebook conquer mobile ad market surpassing its concerns both in 2012 and 2013.
Snap Accelerate Benefits and Tiers
All marketers who qualify for Snap Accelerate program get a number of benefits like:
A significant amount of money for purchasing ad creation and ads on Snapchat
Early access to new ad products and tools alongside Snap's Marketing API
They can run a free branded filter around their headquarters for a specific tenure
The marketers get benefits from Snap Accelerate program as per the features offered by it in the form of three different tiers. The categorization is based on the participating company's size and stage of growth. Check out how the three tiers differ from each other: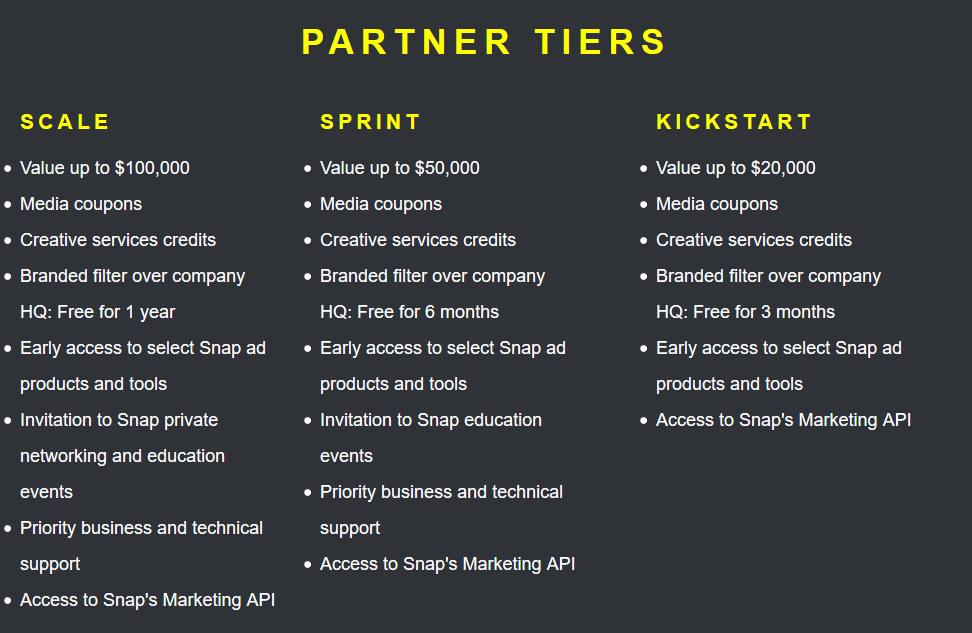 Kick start
Up to $20,000 worth of benefits offered to the organization
Additional credits to use them for buying ads or to pay for ad creation
Free branded filter is available for 3 months
Sprint
Benefits worth up to $50,000.
Credits for buying ads and paying for ad creation
Free branded filter is available for 6 months
Personal invitation to attend Snap-hosted education events
Priority over other firms for business and technical support
Scale
The firms get up to $100,000 worth of benefits
Firms can use credits for buying ads and paying for ad creation
Free branded filter service is available for 1 year
Attend both Snap-hosted education events and private networking events
Preference for business and technical support
Considering the perks offered to startups and other organizations, it can be said that Snap Accelerate has the potential to grow. Snapchat's move to target upcoming startups is an excellent way to build long-term partnerships.
Do share your say on this latest Snapchat update in the comments section below.