There was a time when entrepreneurship was not a viable career option for anyone. Almost every Indian family had 'N' number of engineers/doctors or someone from other elite professions, but they lacked the presence of an entrepreneur in their house. The primary factor responsible was just one:
Everyone looked out for Safer Career options – one which gave them Financial security
However, in a recent span of 2-3 years, I have seen a tremendous shift in how the youth of India perceive their career options. They are ready to experiment, take risks and have started thinking out-of-the-box. Entrepreneurship has come up as a good option for them and they are ready to shove in everything just to achieve something extraordinary.
You might ask – Why even do we need entrepreneurs? or What is the importance of entrepreneurship in our life? Take a look around you and you would realize the importance. I cannot cover all the benefits of becoming an entrepreneur or taking entrepreneurship as a career option, but you must check out these 4 major reasons why entrepreneurship is important not just for you and me, but for the entire world.
Entrepreneurship Basics
Understanding that you now know why having an entrepreneur around us is important, let me start with the basics. However, before I begin, do remember one thing, folks:
Once you Step on the Pedal, you might go through Endless Bumps and Speed-breakers, yet if you Continue, you are Sure to Reach your Destination
And, I believe you are smart enough to understand that sense of accomplishment one feels on reaching its destination. It's admirable but remember one fact: Entrepreneurship is NOT about Over Thinking, but about Wise THINKING and then taking an ACTION. Even the literal definition of the word supports this ideology. The literal definition states:
A person who starts a Business and takes Financial risks in lieu of making Profits
It's your thoughts that drive you on the pathway to success. So, the more Positive you Think, the more Positivity you radiate around yourself. Every individual is different and not everyone has the ability and the zeal to make a difference. As per my recent research, there are only 6 types of entrepreneurs that you would come across in your life. Follow the link to know more about them in detail.
You must realize that you don't need to be a person of Type-A personality for becoming successful. If that would have been the case, Bill Gates would have never been able to achieve the status he's at right now. So, the question is what makes a person successful? OR what are the characteristics a successful entrepreneur possess?  Check out the below-given infographic to know about these characteristics in brief followed by detailed descriptions: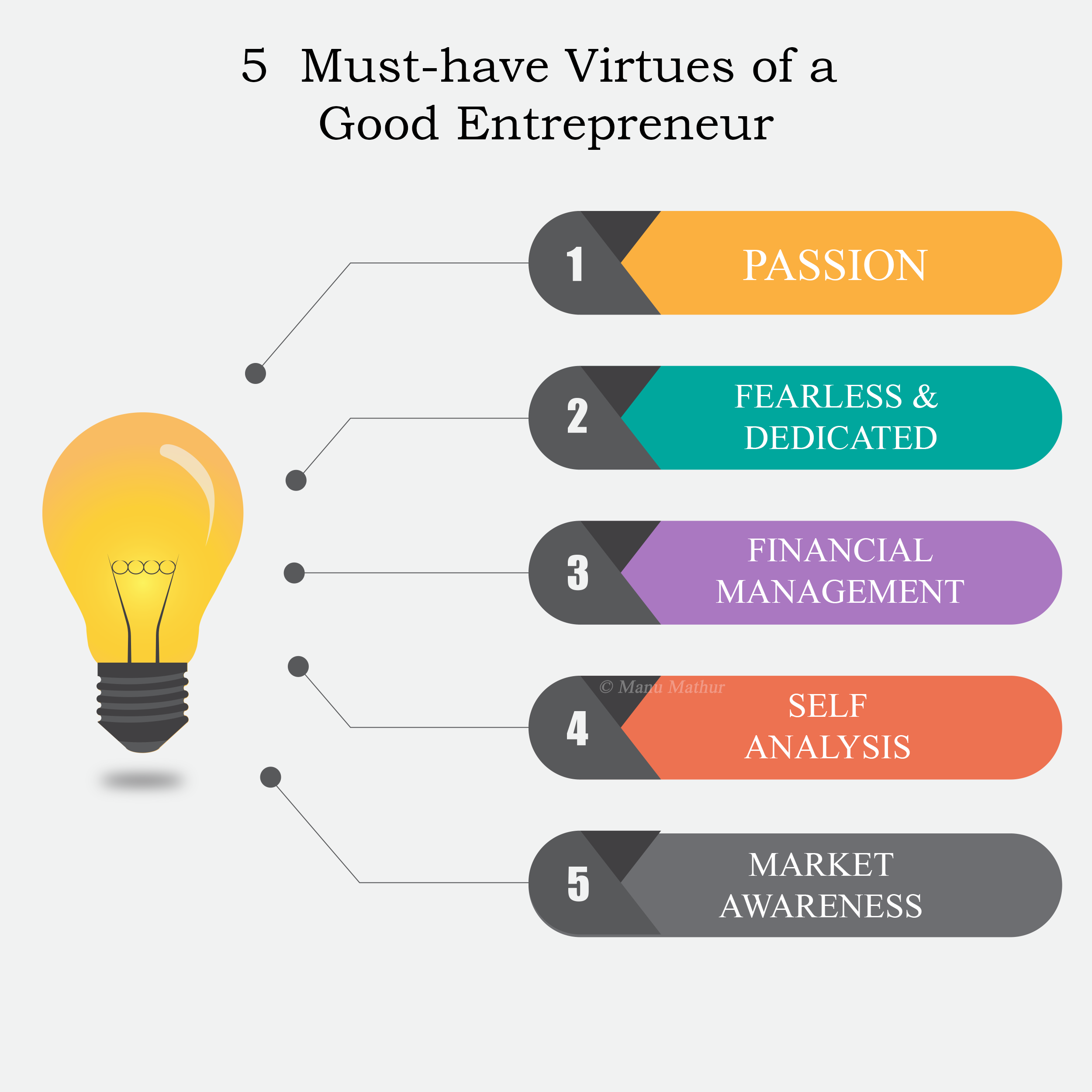 PASSION
One thing that keeps an entrepreneurial mindset folks ongoing is their zeal to achieve something i,e, their passion. While some are in there for money, some are there just to do what they love. Many of you would choose the former scenario if I ask you – who would be more successful – the one who is in for money or the one who is into entrepreneurship because they love it? No  matter, what you choose, you must understand one fact – To be a good entrepreneur, you should and must try answering these direct questions:
Are you ready to sacrifice your sleep to finish an impending task?

Will you be able to iterate every task on a regular basis for a long duration (in years)

Can you design a product and improve it every now and then?
If the answer to all the above questions is a big YES then you definitely can be an entrepreneur. You must have that passion, that motivation and the zeal to do something good for society. One important characteristic of every entrepreneur is that they try and work on solutions, rather than cribbing out the problems. Building a prototype is one thing, pitching it is another. So, identify problems around you, figure out a solution and jump in the pool of entrepreneurship. If your approach and tactics are right, none can surpass you ever and you will surely attain success.
FEARLESS and DEDICATION
Entrepreneurship is not for the fainted hearts. An entrepreneur has to ensure that determination never deters off. Even Winston Churchill rightly quoted:
"Success is the ability to go from one Failure to another with no loss of Enthusiasm"
Entrepreneurship and Failure go hand-in-hand, but you must ensure that you don't give in to your fear. You must show dedication to overcome that fear and continue on the entrepreneurial journey. It's easy to let go, but hard to continue. Entrepreneurs often dive into the world of uncertainty and put-in their time and money on unknowns, yet keep a backup strategy undercover in case something goes out-of-hand. So, whenever you fail, instead of letting everything go, figure out what went wrong. To make it easier, here are the questions you can answer:
What and where did you went wrong?

What did you learn from your mistake?

Do you have a better plan to succeed the next time you try?
Once you are able to figure out answers to these questions, you will have clarity like never before and you will be able to work out a better solution next time. Others might consider you as a stubborn, but remember your focus and the ability to work hard will only bring you closer to Success. In his book "The Four-Hour Workweek" entrepreneur and author Tim Ferriss writes:
What We Fear Doing Most is Usually What We Most Need to Do
So, keep working hard, take the leap and let go all the negativity around you.
FINANCIAL MANAGEMENT
Keeping a tab on the money isn't easy. One needs to take into account every transaction to figure out the profit (or loss) margin.  If you wish to be an entrepreneur, then it is important that you keep a check on the cash flow every instance of time. In the initial days of the business setup, not everyone can handle out the way money comes in and goes out. You need to have a strong hold on the inflow and the outflow of cash. Other than keeping a check on the cash-flow, a successful business owner is one who plans ahead in advance and keeps a certain amount of cash for emergency purposes.
So, if you plan to become a successful business owner, a proper understanding of how to invest the incoming cash is as important as understanding the outflow of cash. Understand the art of money management and pave the way for a successful career.
SELF ANALYSIS
One can move mountains with self-belief. To succeed, one needs to be self-confident and self-motivated at the same time. People are ready to demotivate you, tell you stories of failure's, but if you are confident about your abilities, nothing can stop you. If you wish to be successful, you must have the audacity to convince others about your idea. You have to make people realize that your idea is good and it will work out irrespective of how many hurdles you encounter on the pathway.
You have to be optimistic and visionary at the same time. In his most popular essay 'Thoughts on Various Subjects', Jonathan Swift wrote:
Vision is the Art of seeing things Invisible
So, if you wish to be successful, you must share your vision with others. Don't tell them 'how you will do it', but it is completely fine if you tell others 'what you are doing?'. Your team must understand you to help you attain your goals. So, plan out your actions properly, act as per the plan, do self-analysis periodically and reap the benefits of your hard work.
Market Awareness
An important aspect for every business owner. No one understands your idea better than you. So, to reach heights and be successful, identify how can your idea bring a change in the existing society. Will the audience be willing to give it a try or will they discard it completely? If no one has ever worked on what your idea is OR if your idea brings a significant improvement in the existing market product, go for it.
However, be wary of how the market works. Your awareness can save you bucks and turn your business into a profitable one. Understand how the market rotates, how your competitor is operating and various other factors to save your product from failing. Be innovative, but ensure you understand what your audience needs.
Verdict
Becoming an entrepreneur is like learning something new every single moment. If you are not willing to learn, then you will never succeed. Just soak in everything you come across in your entrepreneurial journey because the more you learn, the better it gets for you. Entrepreneurship is not a typical 9-to-5 job, so if you have an idea, let the people know about it. Unless you try, you won't be able to know how great it is. As the famous quote reads:
DREAM IT and BELIEVE IT to ACHIEVE IT
So, convert your dreams into reality with confidence.
Does this post remind you of your entrepreneurial journey? Do let us know what inspired you to embark on the journey of entrepreneurship? in the comments section below.
Also published on Medium.